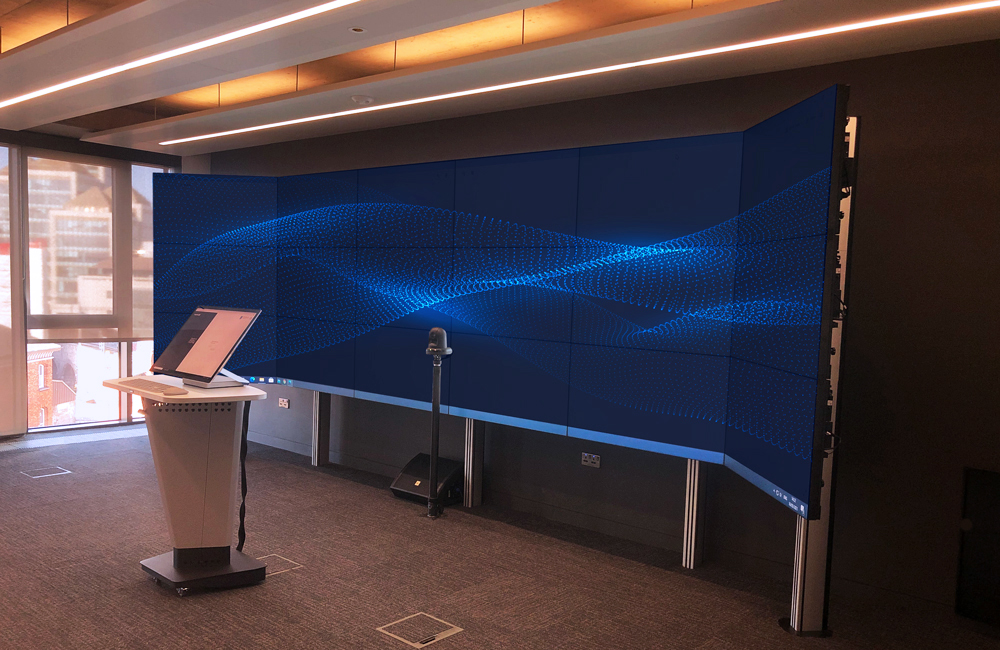 Following Trinity Business School's launch of Ireland's first Flexible Executive MBA, we are delighted to provide an insight into AV systems at the core of the innovative Matrix Room; an interactive hub that caters for the delivery of Ireland's first distance learning MBA.
Featuring a striking 6.1m x 1.7m video wall comprising of 18 Samsung UH46N-E  premium video wall displays, Datapath Fx4 control and mashme.io Room of the Future  software by SyncRTC, the Matrix Room delivers a fully interactive and collaborative online experience.
Image Supply Systems worked closely with Trinity Business School representatives and SyncRTC throughout AV design and integration works. This is the first project completed in Ireland featuring the mashme.io video collaboration platform.
From the outset it was clear that this project would have the wow factor. Having previously completed the initial AV fit out of Trinity Business School, winner of the Education Building of the Year Award at the Irish Building and Design Awards 2019, we knew the Matrix Room would be a striking addition to the flagship educational building on Pearse Street in Dublin city centre.
Best-in-class video wall display, audio and control technology from leading AV brands was selected. Samsung's UH46N-E extreme narrow bezel displays (B-to-B 1.7mm) were deployed for a virtually seamless viewing experience. Mounted in a custom built video wall structure, the displays offer exceptional colour accuracy and brightness uniformity due to precise calibration and panel technology.
Calibration using the Datapath FX4 video wall controller.
The displays have been mounted on a B-Tech curved video wall stand.
The sophisticated video capture system comprises of Panasonic's powerful AW-HE42 full-HD professional PTZ camera with AW-SF100 auto tracking software, delivering superb quality imagery and dramatically simplified camera operation. A ceiling mounted AXIS M3065-V network camera captures HDTV 1080p standard, rear-facing video.
Wireless audio pickup for presenters is catered for by the Sennheiser XS Wireless 1 handheld and HSP2 headset microphones.  The fully integrated room audio configuration features a Thomann passive stage monitor and Focusrite Scarlett audio interfaces. Intuitive user control is provided by the Microsoft Surface Pro 7 professional tablet.
The outcome; an impactful collaborative experience for students and teaching staff, which presents a wealth of new learning opportunities for Trinity Business School.
If you're planning a video wall project for your business, Image Supply Systems can help guide you through the many design options and configurations possible. Avail of our 30+ years expertise in professional communications and collaboration and we will help you choose the right solution for your needs.