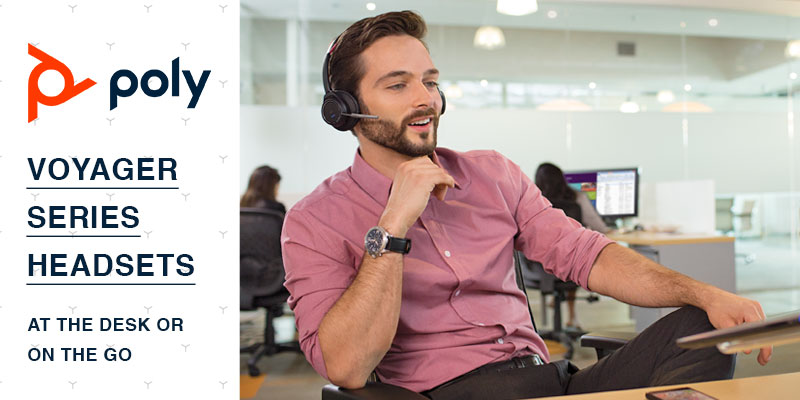 Featuring a wide selection of professional headsets in multiple styles, the Poly Voyager Series offers exceptional audio quality, flexibility and optimum comfort so you can do what you do best. Whether you work in the office or at home, in a noisy or quiet environment, or anywhere in between, Voyager headsets help make your calls go more smoothly. 
Built For Compatibility
All Poly USB headsets and personal speakerphones are compatible with the most popular voice platforms – we just work. Poly solutions provide excellent audio quality for both you and those on the other end of the call – no matter your platform of choice.
AT THE DESK: AT HOME OR IN THE OFFICE
Active noise canceling (ANC) helps block sounds in noisy environments
Smart sensors route, auto-answer, and auto-mute calls
Hi-fi stereo sound creates a more immersive experience
Dynamic mute alert feature alerts when you try to talk while muted
Certified for Microsoft Teams
Zoom compatible
Also suitable for On The Go
Voyager 5200 Office Series
Connect to your desk phone, PC/Mac or your mobile phone with Bluetooth
Range of up to 75 m/250 ft (line of sight) using Class 1 Bluetooth technology
Choice of latest USB-C or current USB-A Bluetooth connectivity
Stay connected all day with charging base options
Certified for Microsoft Teams
Zoom compatible
Voyager 4200 Office Series
Connect to your desk phone, PC/Mac or your mobile phone with Bluetooth
Range of up to 91 m/300 ft (line of sight) using Class 1 Bluetooth technology
Choice of latest USB-C or current USB-A Bluetooth connectivity
Stay connected all day with charging base options
Certified for Microsoft Teams
Zoom compatible
Available in two wearing styles: hi-fi stereo or monaural
Flexible microphone boom and ergonomic design for long-wearing comfort
Roam freely, with a range of up to 30 m/98 ft from a Class 1 Bluetooth device
Up to 12 hours of talk time and up to 15 hours of listening time
Certified for Microsoft Teams
Zoom compatible
Also suitable for On The Go
Boomless, dual-paired, omni-directional microphones with enhanced digital signal processing (DSP)
Dual-mode active noise canceling (ANC) lets you choose your preferred noise- reduction level
Smart sensors route, auto-answer, and auto-mute calls
Certified for Microsoft Teams
Zoom compatible
Also suitable for At The Desk
Boomless design features four omni- directional microphones and active noise canceling (ANC)
Comfort-fit earbuds deliver hi-fi stereo
Neckband vibrates to alert you to incoming calls
Pairs with up to eight devices and connects to two simultaneously
Certified for Microsoft Teams
Zoom compatible
Also suitable for At The Desk
All-day comfort, discreet wearing style
Clear and professional communication
Connect to your PC/Mac with the USB adapter or mobile with Bluetooth
Portable charging case for powering up anytime, anywhere
Certified for Microsoft Teams
Zoom compatible
Image Supply Systems is a Poly Gold Partner