Changing workplace occupancy levels and the adoption of hybrid working styles have significantly altered office space usage. Managing room and desk resources in compliance with COVID-19 protocols is a key priority for businesses and organisations returning to office. The challenge is to enable employees to easily book rooms and desks for safe and efficient usage, in line with any pre-determined seating plans and sanitisation regimes.  
Workspace booking systems feature multiple tools that help companies manage hybrid working activities. The Condeco booking platform provides powerful, yet simple to use booking functionality for meeting and personal spaces. Employees can make reservations via multiple options including Microsoft Outlook calendar, mobile app and an online portal.
5 Key Benefits for Returning to Office
1. Control the capacity of your workplace to enable social distancing
Condeco allows easy closure of workspaces and clearly shows on floor plans which spaces are closed at the point of booking. This enables you to quickly remap a space to ensure that it meets social distancing guidelines, and reopen spaces as the situation changes. You can also quickly reduce the maximum capacity of all meeting spaces in a single action.
2. Control the occupancy of your workplaces by limiting the number of people who can be in the workplace at the same time
Limit the number of employees coming into the workplace on the same days by setting booking allowances, configuring teams, and mandate remote working if needed.
3. Deliver choice and flexibility to employees to manage their work location
Condeco enables you to give employees a choice where to work, whilst still maintaining control over your workplace occupancy. Employees can book workspaces via the web or the mobile app and see where colleagues are working on specific days, enabling easy collaboration when required.
4. Ensure everyone has a clean workspace by enabling effective cleaning schedules and tasks
The cleaning workflow ensures every personal space is properly cleaned and ready for new occupants but prevents unnecessary cleaning when a space is occupied by the same person for consecutive days. If the user checks out or cancels the booking, a cleaning request is created. Should the vendor fail to clean a workspace, the next booking is canceled and the user advised.
5. Trace the contacts of employees
Because Condeco has workspace booking for every employee, it can easily track who was working near someone in the building by offering a contact tracing report enabling you to automatically mandate remote working for employees who worked near someone that reported sick.
Further information: Condeco – Returning to the Office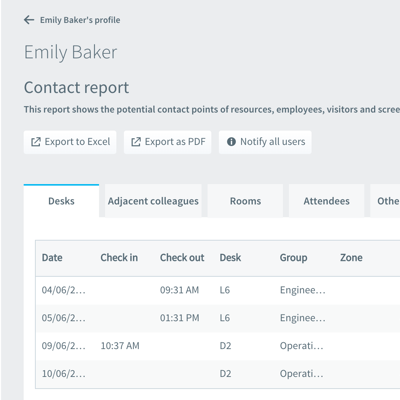 Arrange a demonstration today to learn how Condeco room booking systems can streamline your return to office.
If you're planning a return to office, Image Supply Systems can guide you through the AV tools that are designed to help you. Avail of our 30+ years expertise in professional communications and collaboration and we will help you choose the right solution for your needs.